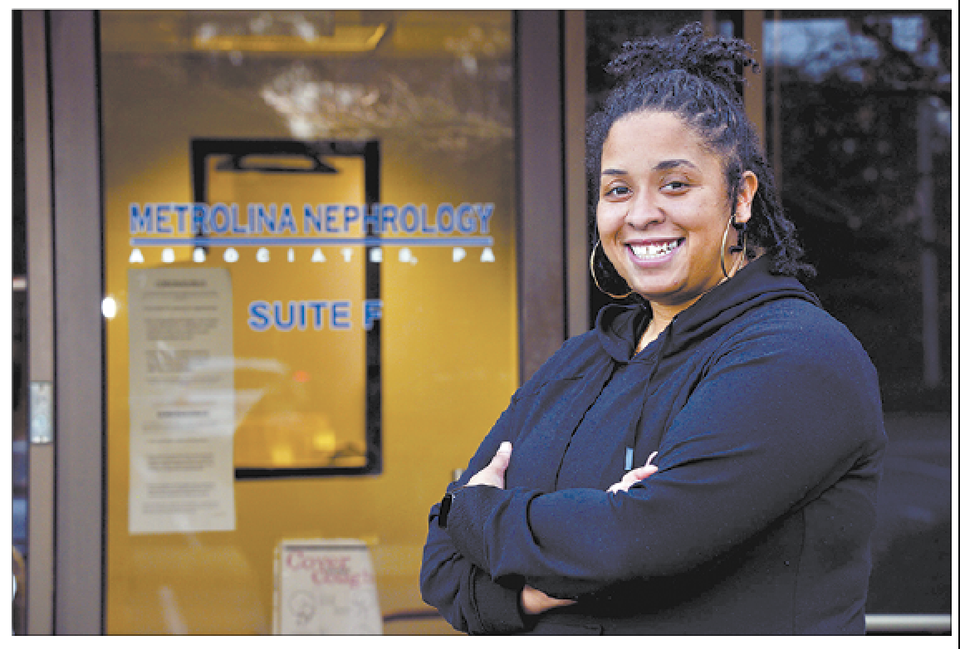 Throughout the COVID-19 pandemic, Certified Medical Assistant Amber Key applies skills she learned at Gaston College
​
(January 28, 2021 Issue)
Amber Key, a 2018 graduate of Gaston College's Medical Assisting program, has been a frontline worker in helping patients adapt to COVID-19 restrictions. Key manages the anemia clinic at Metrolina Nephrology Associates in Gastonia and has had to modify her normal procedures to observe the safeguards needed to protect her patients as much as possible.
Key was already a phlebotomist – a technician who draws blood for tests and performs blood transfusions – when she entered the Medical Assisting program in 2016. She graduated in May 2018 and had a perfect score on the American Association of Medical Assistants' Certification Exam. "I chose Medical Assisting because I felt it would help make me more versatile in the workplace," Key said.
She has worked at Metrolina Nephrology Associates since she graduated from Gaston College. Since COVID-19 has been a consideration, her job has become "more tedious" than it was before. "All patients have to be screened prior to coming into the office," she said. "I see fewer patients on a daily basis due to needing more time for the screening and to trying to make sure patients are safely distanced from each other." In order to minimize exposure for some of her more fragile patients, she has been going outside to their cars, where she does vitals and gets the capillary samples, she needs from them. "My main goal is to give the patients the best care that I can, and to keep them, my coworkers and myself safe."
To ensure safety, Key always wears full Personal Protective Equipment, including face mask, gloves, goggles, and gown. She washes her hands frequently, and everything used in her workplace is sanitized and wiped down with approved cleaning agents. Key also makes sure to wipe down the steering wheel, door handles and other surfaces in her car.
The Gaston College Medical Assisting program gave Key the knowledge and skills she needed for her position. "I am very happy with my career. It fits my lifestyle," she said. "My goal is to continue to learn as much as I can and continue to contribute as much as I can at my workplace."
The coronavirus pandemic, however, has required some previously unanticipated adjustments to the way Key approaches her job. "I honestly don't think that any amount of school can prepare you for actually dealing with a pandemic," she said. "I do feel that my education at Gaston College prepared me for the change in my responsibilities because you have to know how to adapt to whatever is presented to you and still maintain that level of patient care. It is so important to have a high standard when working in this field. If you start the Medical Assisting program with high expectations from Day One, by the time you've completed the program it is second nature and it just carries over to the work environment."
The Gaston College Medical Assisting program gives students the clinical and administrative skills needed to help others as a medical professional. Medical assistants combine their knowledge of the human body and their organizational training to be effective and important members of health response teams, whether in a physician's office, clinic, or hospital.
The two-year Gaston College Medical Assisting program is accredited by the Commission on Accreditation for Allied Health Education Programs. Graduates of the program receive their Associate of Applied Science degree and qualify to take the AAMA certification examination to become a Certified Medical Assistant. For more information on the Gaston College Medical Assisting program, call 704-922-2274.