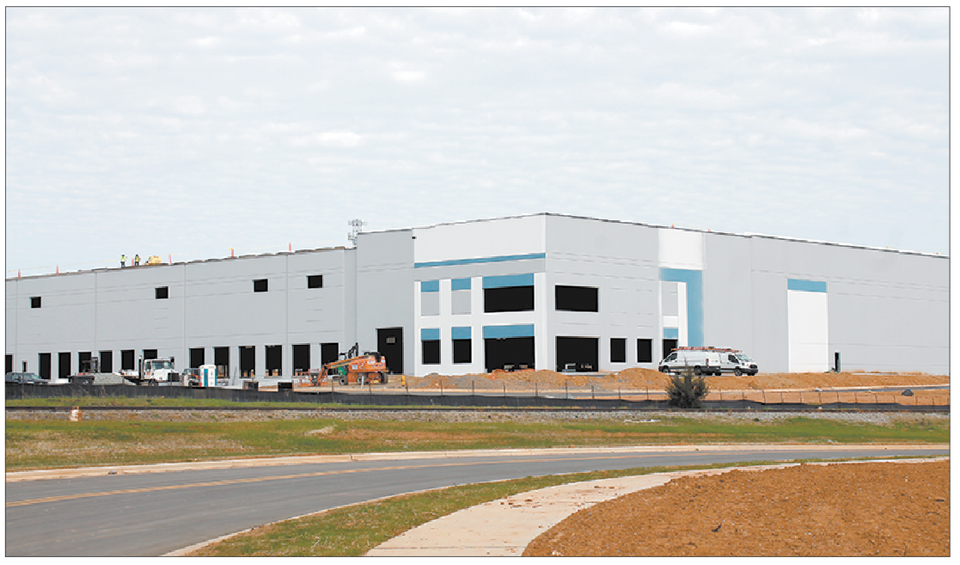 North Belmont business park project moving along
By Alan Hodge
alan@cfmedia.info
The River West business park project in North Belmont is well underway. The project is located at the intersection of Woodlawn Rd., Cason St, and Acme Rd.
McMillan Pazdan Smith is providing design services to Tribek Properties for the project. Also collaborating on the job are Seamon Whiteside, and McVeigh & Mangum Engineering.
The two huge warehouse and office structures being built will have a total area of around 600,000 sq. ft. One building is about half done and concrete panel walls for the other are currently being put in place. Building West features a double-loaded dock with access from both sides, enabling multi-tenant access, and Building East is a single-loaded dock.
When completed later this summer, it is estimated the project could generate 250 to 350 new jobs.
The project has necessitated road improvements one of which will eliminate the blind intersection at Acme Rd. and Woodlawn and the other has already seen a reconfiguration of Cason St.
The 60-acre site where the development is being built has a long and interesting history going back to the 19th century when it was part of a 650-acre plot Robert Smith purchased from Catawba Indians in 1830 for $1,000. At one time around 1900, a gold mine was located along the banks of Fite Creek on the property.
Later, the land was the site of Acme Spinning Mill. That textile facility opened around 1920 and operated not one, but two mills. It also had a village of company houses as well as a baseball field for workers and their families. In 1986, "the Acme" as it was known, was sold to Parkdale Mills who kept it going until 2002. In 2005 the mill and many of its houses were torn down.