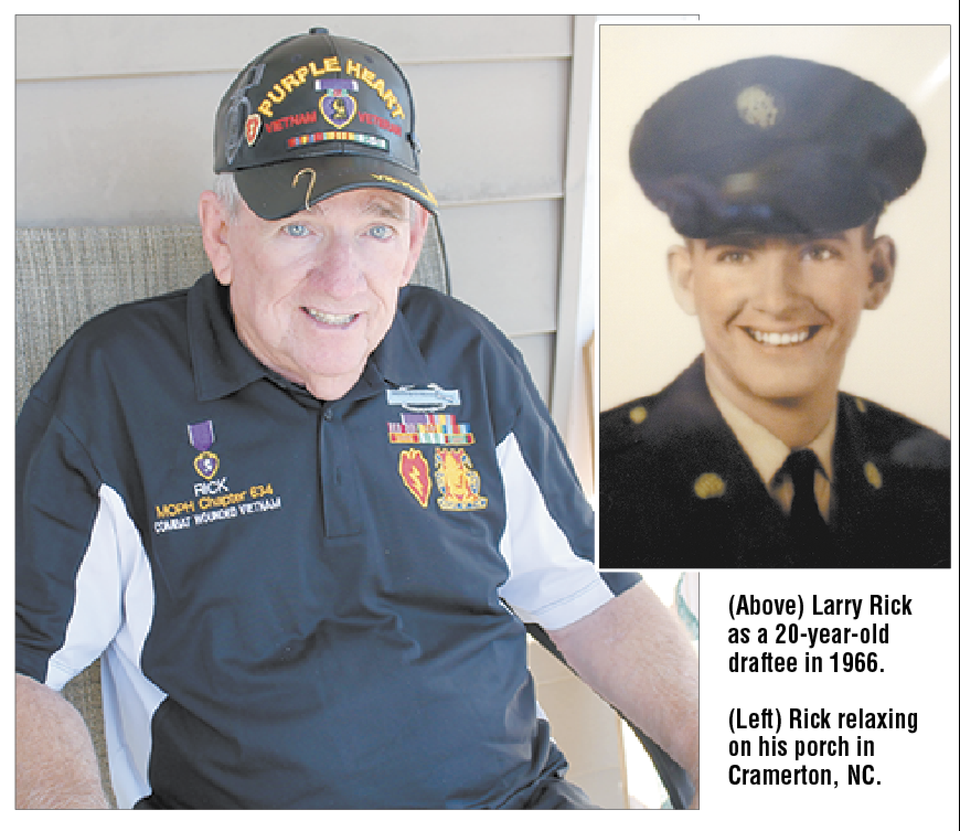 Cramerton's Larry Rick served with honor in Vietnam
By Alan Hodge
alan@cfmedia.info
Nov. 11 is Veteran's Day, but every day is a good one to honor those who served our nation. Here's the story of one local veteran.
It's been half a century since America was embroiled in the Vietnam War. That fact might be hard to believe for many folks, but for some, like U.S. Army veteran and Purple Heart recipient Larry Rick of Cramerton, the memories of serving there are as vivid as yesterday.
The year was 1966 and the war in Vietnam was going full tilt. Rick was 20 years old when Selective Service came calling.
"I was drafted into the Army on October 13, 1966," Rick said. I was in the 2nd Battalion, 14th Infantry, 25th Division named Tropic Lightning."
Quick as lightning, Rick was soon at Fort Bragg getting basic training, then he was shipped to Fort Jackson for advanced infantry training.
"They let us know at Fort Jackson that we would most likely be going to Vietnam," said Rick.
Things moved along and in April, 1967 Rick found himself and his comrades on the ground at Da Nang Air Base, South Vietnam.
"We were marched to Cuchi base camp," Rick said. "We went straight into the field and started doing night patrols and search and destroy missions."
One day, Rick and his pals got on helicopters and were flown to a spot called the Black Virgin Mountains in the Mekong Delta and Tây Ninh Province of Vietnam.
"We slept in a graveyard and watched B-52 bombers and jets bomb the area," he said. "On Saturday, April 8, 1967 we marched through some rice paddies then into a forested area. We came upon a Viet Cong hospital area and had a battle."
At 3:30pm on that day, Rick was seriously wounded by an enemy hand grenade.
"I was wounded in the left arm, right leg, and stomach," Rick says matter of factly.
Rick was airlifted from the fight and spent a week in a hospital in Saigon. That was followed by a four month stay at a hospital in Japan. He finished his enlistment at Fort Bragg and was discharged on October 11, 1968.
Rick reflected philosophically on his experience in the Vietnam War- one which was controversial at the time for many folks.
"It was something nobody wanted to do," he said. "But we felt as if we were serving our country as best we could. It was also a learning experience and made us appreciate what we have in America. If I had to do it over again I would in a heartbeat."
Like many Vietnam vets, Rick held his memories inside. He credits one organization for helping him cope with being wounded- the Military Order of the Purple Heart-a national group of wounded veterans that has a local chapter 634.  (PS Rick's brother in law Ron Wade of N. Belmont is also a member).
"The group helped me adjust to many things by interacting with people who have gone through a similar experience. They are such a great group of people."
These days, Rick is retired from USF Holland where he was a supervisor and spends time enjoying his quiet home on Woodlawn St. in his hometown of Cramerton. With Veteran's Day coming up, he mused on what that holiday means to him and other folks who put on a military uniform.
"Veteran's Day is a special time for anyone who served no matter what branch of service," he said. "It's an awesome time to be remembered by our country as a whole."
Thanks for your service, Larry.
Interested in the Military Order of the Purple Heart local chapter? Call Rick at 704-813-4566.