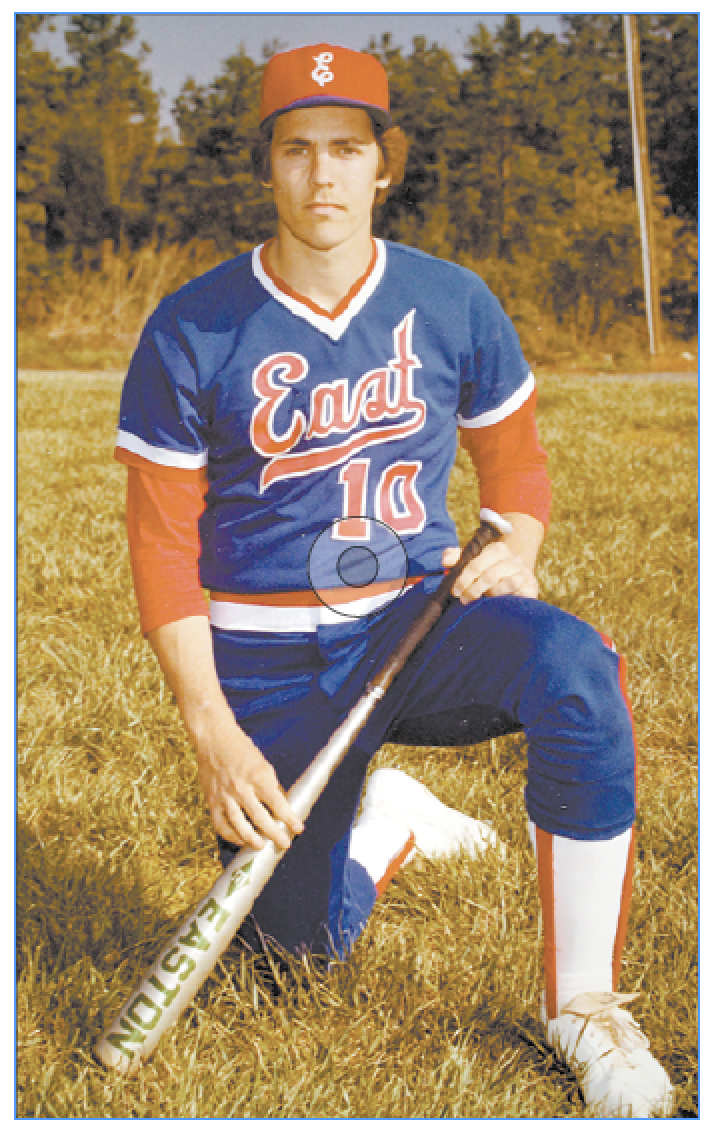 Turning rocks into diamonds
By Kathy Blake

"You've got to be very careful if you don't know where you're going, because you might not get there." – Yogi Berra
Before he ever saw the inside of a dugout, Mike Featherstone saw his future. He felt the ball roll in his left hand, got the grip just right, and hurled a good cutter 90 miles an hour, straight to the mitt. Little kids dream like that, sometimes.
What Featherstone actually held was a hand full of rocks, in a back yard, with a fan club of two.
"I guess my parents noticed, because I liked to throw rocks as a little kid, and they got me into the Mount Holly Optimist League, made up of the local churches," he says. "I started playing Little League and played for the Castena Presbyterian Church on Highway 16 up near Mountain Island."
Being a lefty, he says, made it a natural fit to be a pitcher.
He pitched in middle school, in high school, in front of scouts who promised summers in Arizona, and for a team whose antics rivaled the Bad News Bears. He pitched in college, and had his pick-off moved filmed as a training video. He pitched for a summer league team that somehow made it to Kansas in a bus – engine probably held together by Scotch tape and prayer – that didn't make it back home no matter how many times they clicked their heels. He pitched in a Cape Cod League and in the pros, in the Braves organization, and found that, in baseball, always knowing where you're going leads to cherished memories of where you've been.
Featherstone, 56, of Lincolnton, ends his baseball ride in the Mount Holly Sports Hall of Fame.
"It's an honor. The first thing I thought about when they told me was that if my dad were still here, he could participate," he says. "I'm just honored. I appreciate the acknowledgment."
It was Earnest Featherstone who taught his son about aiming high, but taking the right road to get there.
"My dad was my mentor, and I looked up to him and respected him," Featherstone says. "He made good decisions."
A year before Featherstone graduated from East Gaston High School in 1982, Major League scouts were regulars at games. Particularly Vern Benson, then with the St. Louis organization. Featherstone was All-Southwest Conference as a junior and senior, conference co-Player of the Year in 1981 and pitched four one-hitters. Benson called to say the Cardinals planned to take him in the sixth round and plant him in Arizona. Earnest Featherstone said no.
"I wanted to go play ball. That's really kind of a low point between me and my father. I didn't talk to him for six months," Featherstone says. "I would have gone to (Class) A ball or rookie ball, but he was all about education. It was absolutely the right move. Fathers know best. I was only 17. But we mended fences, and I got my degree from Wake Forest."
Featherstone was the winning pitcher against Shelby in the playoffs his senior year at East Gaston, the year Wake was in the market for a left-handed pitcher. Wake coach Marvin Crater, the ACC Coach of the Year in 1982 – who played in the Yankees farm system and was roommates with Yogi Berra – was in the stands. "He offered me a full ride," Featherstone says. "He had the paperwork with him."
But before college, there was that certain summer league.
The 1983 semi-pro Winston-Salem Indians placed sixth in the National Invitation Tournament in Wichita. "It was a talented team; the guys, the starting line-up had played some level of minor league professional baseball. They were in their late 20s, early 30s, kind of a rag-tag Bad News Bears," he says. "The owner was an interior decorator. We had a shortstop named Ron Fowler, and during the game he would be smoking a cigarette and he would never drop an ash when the ball was hit to him. He could turn a double play smooth as silk.
"They had a cooler in the dugout and they loved Bud Lite. And the more beer they'd drink, the better they'd hit. There's a lot that goes on that the fans don't have a clue."
Like, when the umpire is a little tight on the strike zone, and the catcher has to have a talk, send a message. "So, you get a runner on first and we'd have a pitchout, where we're going to pick the runner of first. And sometimes, you get the signals crossed and I throw it right over the plate, and sometimes you hit the ump in the shin guards," he says. "One time, I kind of hit him in the midsection and he kind of went down, and the catcher told him, 'You need to loosen up the strike zone, or we'll do this all night long.'"
But back to the W-S Indians…
"We ended up going to the national semi-pro tournament in Wichita, Kansas, and ended up finishing sixth. We were playing in the Triple-A ballpark, and the crowd was chanting for us. Ron never dropped an ash the whole tournament. We rented a Greyhound bus, and it smoked like a freight train, so when we left Winston-Salem, instead of going on I-40 through Knoxville and a straight shot to Kansas, we had to go through Atlanta because that thing would not make it through the mountains. I called my dad and said it wouldn't make it back to North Carolina. Could he get me a plane ticket? Four other guys did the same thing."
Next summer; different team.
"My sophomore year, I got a chance to go to the Cape Cod League, and that was a great experience," he says. "It's a summer league put together by college coaches, to invite the upper tier of talent to play together. I played with the Falmouth Commodores. It was loaded with scouts at every game."
Featherstone played 52 games in four years at Wake Forest and in 1986 had the second-most strikeouts in the ACC. He pitched 73 innings in 16 games his senior year, with 54 strike-outs.
He was drafted by Atlanta and played for the Pulaski (Virginia) Braves in the Appalachian League, and won the Rookie League Championship.
"If the world were perfect, it wouldn't be." – Yogi Berra
Featherstone's last game was in 1987. He tore the rotator cuff on his pitching arm and had surgery in the winter. By spring training in Bradenton, Florida, the arm didn't cooperate. "There wasn't enough time to rehab, so I got released. My wife and I, we never looked back."
He and Lisa were married in July 1987. They have three daughters – Brittany, Mackenzie and Kassidy. Today, Featherstone works for Duke Energy, as manager of the IT enterprise help desk. He has about 60 employees.
"Sometimes, I remember the camaraderie with the guys, and playing the game and the love of the game," he says. "And those minor league road trips, travelling on the busses…good times. Those are some good memories."

BY THE NUMBERS
East Gaston High School (1980-1982):
Sophomore – 22 1/3 innings, 28 strikeouts, 0.94 ERA. Junior – 63 2/3 innings, 97 strikeouts, 7-3 record with 3 saves. Senior – 71 innings pitched, 97 strikeouts, 8-2 record with 2 saves.
All-Conference, 1981 and 1982. 1981 Southwest Conference co-Player of the Year. Intended 6th-round pick of the St. Louis Cardinals. Signed NLI with Wake Forest.
Wake Forest University (1983-1986):
1983 – Sixth place, National Invitation Tournament, Wichita, Kansas with the summer league state champions Winston-Salem Indians semi-pro team. 1984 – Cape Cod summer league, Falmouth Commodores. 1985 – Pitched a one-hitter in win over Georgia Tech. 1986 – Team co-captain. Led Atlantic Coast Conference with most first-base pickoffs. Drafted by Atlanta Braves.
Professional:
Played for the Pulaski (Va.) Braves of the Appalachian League. Won Rookie League championship.

After having had to cancel the 2020 event due to the COVID-19 pandemic, the Mount Holly Sports Hall of Fame is pleased to announce that the 2021 event will be held on August 21, 2021 at the Mount Holly Municipal Complex at 6pm. Tickets are available for $20 at Moose's Pharmacy and David's Detailing.