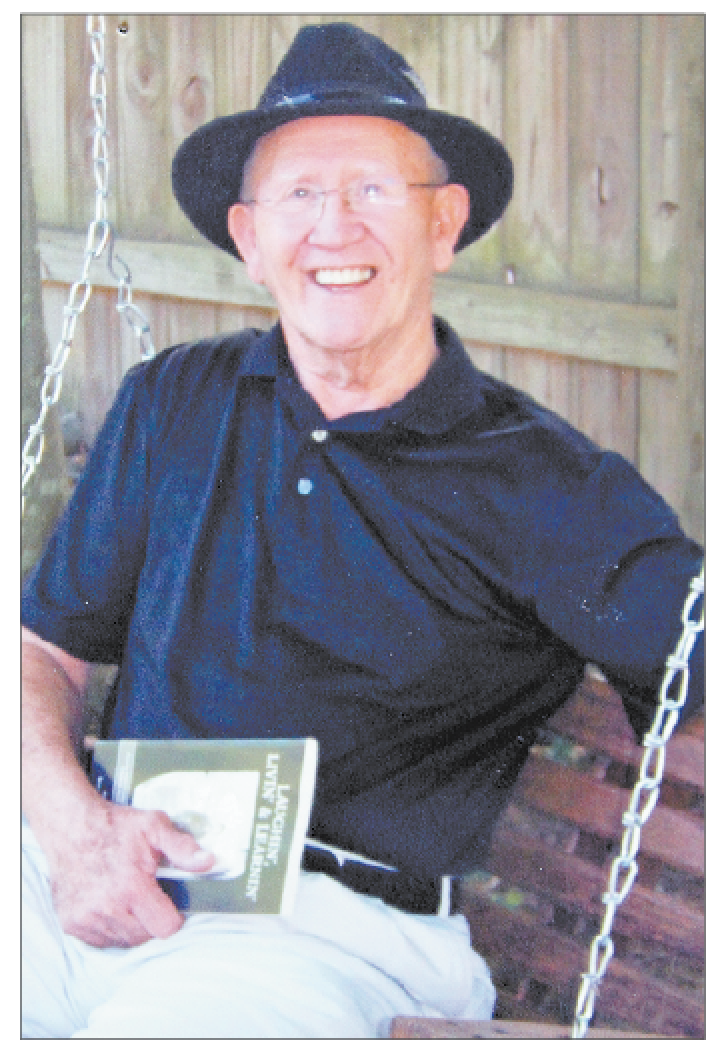 Belmont Historical Society names late Bobby Brown 2019 Citizen of the Year
The Belmont Historical Society recently held a special presentation  and named the late Bobby Brown as its 2019 Citizen of the Year. 
Over 75 friends and family members attended the event to honor Brown. Phil Tate honored his friend, Bobby Brown, giving the remarks about his life here in Belmont. He was one of the founders of the BHS. He was born and raised in Belmont and always kept his love for the town and the area. Those attending enjoyed refreshments, touring the museum buildings and visiting with each other.
Here is a tribute to Brown written by local author and former BHS president Stan Cromlish.


By Stan Cromlish

Robert Dallas Brown, better known as Bobby to his friends, lived a lot of life from November 15, 1938 through June 4, 2017. During his life, he was an avid reader, teacher, mentor, writer, friend, promoter, encourager, and someone who lived life completely. He was an eternal optimist believing that like everything else he could overcome Idiopathic Pulmonary Fibrosis, a rare lung disease, that really made it difficult for him to breathe and have the energy to participate in the many hobbies and causes that he loved dearly.
Bobby had a zeal for life that has been rarely equaled by anyone in the community and from his earliest childhood to his final years, he continuously strived to give his best in everything he did and his best was better than most because he had more energy than two normal men. After 30 years of work in the teaching field and at Summey Building Products, Bobby retired and with the support of his loving wife, Gail Yount Brown, he really got busy.
Music, writing, automobile restoration, and philanthropy were just a few of Bob's many talents, and he put them to good use over the years. He bought a 1930 Model A Ford because it reminded him of the good ole days in Belmont when life was slow and easy. He was an award winning writer with his three books which all won North Carolina Society of Historians awards. Guy Brown is Back! is a biography about his beloved brother and local boxing legend, Guy Brown. Laughin', Living, and Learning and Some Things That Come With Life are anthologies that contain short stories, epigrams, and poems about life in Belmont. Bobby loved Belmont and its people and it showed through in everything he did. In 2005, with the help of seven like-minded men, Bobby promoted the foundation of the Belmont Historical Society. The Belmont Historical Society museum was founded by these men to preserve the past for the sake of the future.
Several years ago, he was approached by Art Shoemaker to join the board of directors of the Belmont Sports Hall of Fame. There were no half-measures of support with Bobby; he used his high-octane energy and every promotional tool he had to promote the annual Hall of Fame banquet and induction ceremonies. His promotional prowess made most of these events a rousing success.
People always remarked that Bobby seemed to be in a constant state of motion whether it was running errands for the Historical Society, promoting the Sports Hall, or visiting patients for his beloved Mended Hearts Chapter 379. His Mended Hearts involvement gave him an outlet to share that heart disease and heart surgery were not the end of life as the patient knew it but a new beginning. When his application for the Guinness Book of World's Records was approved for the "Longest Surviving Double Heart Bypass Patient", he used that not to shine a light upon himself, but to promote the fact that you can live and live well with heart disease. He often spoke that he would love to be able to congratulate the individual who broke his record of 40 years and 216 days because he would have one more way to help others who suffered from heart disease.
Bobby gave full measure of himself in all his endeavors and should be remembered for his "Service Above Self" attitude. Bobby may be gone from the earth, but his contributions and the love he showed everyone he came in contact with will live on forever in the hearts and minds of those people who cherished this man of unwavering energy and devotion. A friend in a remembrance said, "Go rest high on that mountain, Brown. Your work here is done, but the results of your work will never be forgotten." This legacy of Robert Dallas Brown is only exceeded by the love known by his beloved children and grandchildren.