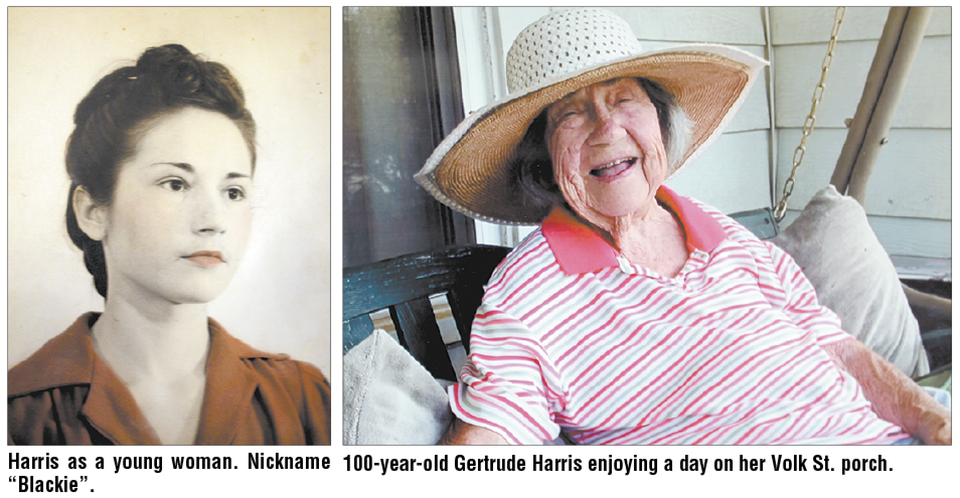 Gertrude Harris has hit the century mark with style and grace
By Alan Hodge
alan@cfmedia.info
There have been a lot of changes in East Belmont over the decades and Gertrude Harris has seen them all which is not surprising given the fact she will be 100 years old on September 10.
Gertrude's parents were Claude and Martha Robinson. Like a lot of other folks in our area, her dad worked in the mills while her mom kept house. Gertrude was one of eight kids. She has a sister, Sarah Shinn, who is in her mid-90s and lives in Charlotte.
Gertrude attended East Belmont Elementary School and then went to Belmont High. She left to work at Acme Mill in North Belmont and retired for there at age 62.
Gertrude's grandfather W.T. Robinson had a movie theater in East Belmont back in the 1920s.  It was located on Catawba St.  next to where Headhunters hair salon is now.
"My sister and I went to the movies a lot," Gertrude said. "We had a lot of fun. We would throw peanut hulls in the fan and scare the adults with the noise."
Gertrude grew into a stunningly beautiful young lady. Folks called her "Blackie " due to her coal black hair. When she was 25 years old she married her husband John Harris in 1945.  They had two kids, a boy and a girl. He also worked in the textile industry and passed away in 1984.
"We traveled quite a bit," Gertrude said. "We went to Florida, Virginia, and the mountains every chance we got. We loved going to Chimney Rock."
Gertrude never got a driving license, but recalled when her husband bought a car.
"He walked to the Chevy dealer in Belmont and drove the car home," she said,
The new car was such a game-changer that Gertrude said once John drove the car to a store, forgot about it, and walked home.
Gertrude has lived on Volk St. in East Belmont for around 60 years. It's a little lane on the river. The Aberfoyle Mill once stood right behind it. Now, new apartments and townhouses occupy the mill site.
Gertrude recalled life on the river back in the day.
"My husband and father loved to fish," she said. "There were boat shows and water skiing on the river. I remember when the airplane pilot Manson Arrowood would fly low over the river.  Back then, the river looked different than it does today. It was not as wide. I used to play on the sandy shore."
Gertrude's faith has always been strong. She is a charter member of Unity Baptist Church.
"I love Unity Baptist," she says.
Another thing Gertrude loves is gardening and growing things. Until recently, she grew a vegetable garden every year. She still likes to plant flowers.
"I scoot around in the garden," she says. "I can still wash and hang my clothes on the line. I still do my own housework. I run my house inside and outside."
Gertrude gazes out her window and considers the way Belmont is now compared to how it used to be.
"Everything has changed," she says. "It will never be the same."
Gertude's 100th birthday will be one of celebration to a life and lady that has stood the test of time in a graceful and energetic manner. What's the big plan for the special day?
"A party at Catfish Cove!" she said. "My favorite hangout!"
Happy Birthday Blackie!