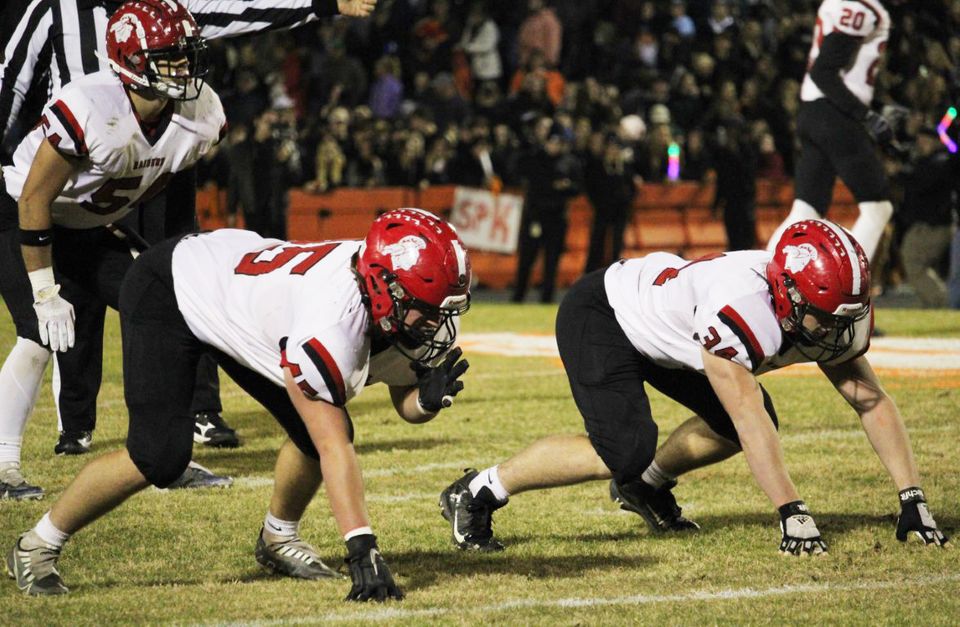 South Point comes up short in 14-7 loss to East Lincoln
By John Wilson

Well, it was on heck of a ride, but on Dec. 2 the South Point Red Raiders got bumped from the Western Finals of the 3A high school football playoffs after losing to the East Lincoln Mustangs 14-7.

This run was impressive to say the least. South Point overcame some early season setbacks including the loss of their starting quarterback to roll into the playoffs with a 9-1 regular season record.

South Point's only regular season loss came in October at the hands of Big South rival Kings Mountain. The Mountaineers would go on to take the conference.

When the playoff brackets were released many thought that due to their record the Red Raiders would get a high seed. However, that's not how things work.

In the North Carolina High School Athletic Associations playoff format conference champs across the state are guaranteed higher seeds. In other words, a team's win-loss record doesn't always matter. Because the Red Raiders didn't win the Big South other teams were seated higher than South Point. Those teams weren't necessarily better, they were just seeded that way.

So South Point landed the 11th seed in the 3A West. In a way things worked out to the Red Raiders advantage because in the coming weeks Big Red would wreak havoc in the 3A West.

South Point rode into the playoffs behind their well-oiled triple option Redbone offense, a hard hitting and opportunistic defense, and an uncanny ability to make mid-game adjustments.

Before taking on the Mustangs Big Red in the Final Four game South Point notched playoffs wins over Hickory, Dudley, Crest and East Guilford.

The Dudley game was truly special.

On the road in Greensboro facing the sixth seeded Panthers, South Point found themselves down 21-13 at the end of the first quarter. In the second quarter the Red Raiders opened a flood gate of scoring that resulted in 53 points in three quarters of play.

The scoring surge included a 22-yard Patrick Blee to Dawson Tobin touchdown strike, rushing TDS by Blee, Cam Medlock and Elijah Phifer and a pair of fumble recoveries by Dylan Owenby and Jack Milford that went in for scores.

South Point would go on to win that one 74-41.

In the East Lincoln Final Four game South Point gave the Mustangs a real fight.

All year the second seeded Mustangs had smashed their opponents, but this time that didn't happen. This game wasn't going to be decided early. This one would go the distance.

The first half proved to be low scoring with the Mustangs up 7-0 at the half.

In the third quarter East Lincoln added another score and the Red Raiders found themselves in a hole down 14-0 going into the 4th.

In the fourth quarter the South Point offense finally got on the board off of a one-yard Cam Medlock run. A successful Charlie Birtwistle PAT kick cut the Mustangs lead to 14-7.

The rest of the fourth was dominated by the Red Raider and Mustang defensive units and neither team scored again. Unfortunately, South Point ended up on the losing end of that exchange as East Lincoln held on to earn a spot in the 3A championship.

The Red Raider's season may have ended in Lincoln County, but this team has a lot to be proud of in 2022. A 13-2 record is something you can hang your hat on.

While many expect South Point to be good year in and year out it should be noted that nothing in this world is free. You have to earn it. Every year you start at 0-0, and every year you have to line up and prove yourself. This season this group of players played hard. They earned the respect of friends and foes alike.

This year's success would not have been possible without several players turning in top-tier performances. The Big South 3A All-Conference roster hasn't been released yet, but when it comes out no one should be surprised if it's filled with Red Raiders.

On offense fullback Cam Medlock and freshman quarterback Patrick Blee made things happen all year.

You could say Blee was the WOW story of the year. A freshman who due to injuries was thrust into a starting role and when he got his shot made the best of it.

Blee not only held his own this season, he excelled. He proved to be an effective option quarterback who distributed the ball well and made few mistakes. In 2022 Blee ran for 1,400 yards and 19 touchdowns while throwing for 688 yards and 10 scores.

For his part Cam Medlock played like a classic South Point fullback. While not the biggest player on the field at 5'9" and 170 pounds Medlock played like a beast. The senior back ran hard on every play and proved to be tough to bring down. He ended the season with 313 carries, 34 touchdowns and 1998 yards.

Patrick Blee's older brother Jackson was South Point's top receiver. The 6'5" 205-pound senior hauled in 13 catches for 343 yards and two TDS.

Of course, the offense will go nowhere without blocking up front.

At the beginning of the season head coach Adam Hodge described the O-line as a solid group with a good work ethic. "They are a good unit," Hodge said. "They are tough kids who work hard. They bring their work boots practice."

This season's line was led by senior standout Sullivan Absher. All year Absher and company opened holes for the running game and protected the passer when the Red Raiders went upstairs.

On defense the Red Raiders were stout. They kept opposing offenses to 14 points or less on nine occasions. At times their play changed the flow of the game.

In 2022 the South Point D generated 27 turnovers and 17 sacks. Chaynce Ford, Will Ross, Winter Kincaid, and Jaquis Rumph are but a few of the players who stood out it this highly rated unit.

Ford was the Red Raiders top tackler this year with 138 stops. He was followed by Ross and Rumph who finished the season with 127 and 120 tackles each. Winter Kincaid rounded out the list of top tacklers ending the year with 111.

South Point head coach Adam Hodge is proud of his team. He knows that everyone associated with Red Raider football held nothing back this season.

"Our kids played their tails off and I am extremely proud of them," Hodge said. "They worked hard all year and we came up a little bit short."

While the memory of the playoff loss will sting for a while, history will show that this was a GREAT year for Red Raider football.