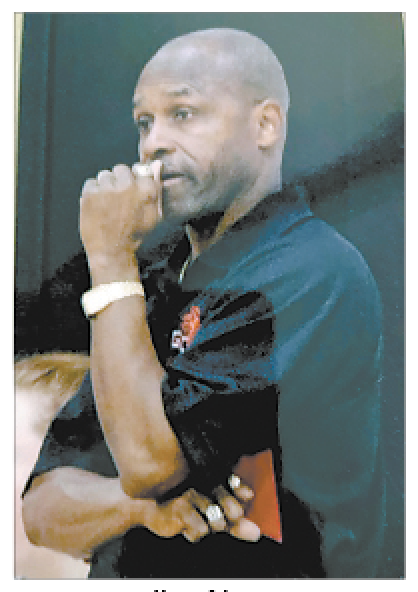 Winning words: Harry Adams explains his success
By Kathy Blake
Harry Adams started a girls AAU basketball league in Mount Holly in 1995. He was coaching at Mount Holly Junior High and wanted some of his athletes to play at the next rung, so he combined some of his team with girls a friend coached in Charlotte.
Someone donated jerseys.
"I wasn't aware how much it cost. We just jumped into it," he says.
The team played a Regionals in North Wilkesboro, the first step toward the state tournament in Raleigh and national championships. It didn't go well:
"I talked to a guy who ran the Wilkes Diamonds program, and he explained that this is a whole different level."
Adams wasn't going to let history repeat.
He found gyms to practice in – Mount Holly and Stanley schools, the Mount Holly city gym and, through a friend, Temple Baptist Church in Gastonia. He reworked his program and coached AAU for 25 years.
He won three national championships.
Along the way, he also coached girls basketball at Mount Holly and Stanley middle schools, varsity girls at Gaston Day and Gaston Christian, and basketball, baseball and football at Mount Holly Junior High.
Now, at age 71, his work as a coach and his contributions to the town have Adams being honored in the Mount Holly Sports Hall of Fame with the Community Spirit Award.
"It's really humbling. In my life, you never think something like this could happen and you never know when you start how things will work out, how God will make it work out," he says, "but you do what you do, and that's where my heart was."
Adams sees his athletes as people first, ballplayers second.
"If you can look in a mirror and say 'I did my best,' that's good enough for me as a coach. I was able to win with a lot of kids with that presentation, and I was genuine with it. And that's the winning piece, when they know you're real," he says. "Kids are smart and they can see through the fluff, but when you come in the gym every day and they see you're the same person, they will play their hearts out for you."
Actions may speak louder than words, but words can be influential and powerful.
Listen to some philosophies from Adams.
On coaching:
"It's something that I think has to be a God-given gift to work with kids like that because you have to be committed and you have to give up a lot in order to do it. I got gratitude out of seeing kids get better. They come out and try to get a grasp of what's going on, but if they work hard they can get better. Oh, they may not be the best, but if you love what you do, you can get better."
On being a leader:
"Everybody who came into our program, I sat with the parent and the child and said this is a team organization, and all our players are not on the same level but we play as a team. If you have any questions, don't ask anyone else, ask me. I tell them that so there wouldn't be any junk, and I was able to be successful. I know how things can be when you deal with kids, so everything went through me. You want to blame someone? Blame me. And it works."
On players who aren't their team's best:
"It's a learning tool for them. Be patient. Great athletes are easy to coach, but when a kid comes along who isn't that great, it's a lesson. I pride myself in trying to get that kid to grow as an athlete and as a person. You don't just throw that kid out and get someone better to play, you develop that kid."
On player mistakes and last-second losses:
"I can't tell you how many times, in a critical game… A kid knows when they should have done something and it didn't work out, and you have to let them know it's not the end of the world and that's not what this is about. You have to leave it where it is, because there's another game tomorrow and you might hit the winning shot. This is a team thing. No one's going to blame you because you missed the last shot. That's not what defines you."
On education:
"You can't play for me unless you have an A-B average. Education is important. If you don't have grades, you can't go anywhere with a sport. I put that out in front of my parents and my kids, and a lot of parents didn't like it, but I think education is important. Only a very small percentage become professional athletes."
One season, he says a team missed going to a championship because of a missed layup:
"In that split second, when you find out it didn't happen, you think it's going to stay with you until next year when you come back. But you have to take that, along with the glorious parts, and learn from it. We didn't play win-at-all-costs. It's about winning and learning about life. That's the important part. Because, after basketball there is life. When basketball is over, you have to start living life."
His AAU team was headed to Tampa for the National Championships in 2006 when Adams hurt his back doing landscaping at his home. His son took him to a doctor, who told Adams not to get on the airplane.
"I coached from a chair the whole time, and we won the national championship that year. I was in the chair, and the kid hit the winning shot, and I came out of that chair and was jumping up and down. It was one of the highlights of my career, seeing those kids win on a big stage. It was just the adrenaline that got me up. My assistant coach, he was 6-foot-7 and I'm 5-foot 6, and he set me right back down. For a group of girls from a small town to go down there, where people didn't give them a chance .. and we won."
Adams graduated from Mount Holly High in 1971.
He and his wife, Rita, have two sons, Marquis and Terrell, and he coached them when they played youth basketball and football, in addition to his work with AAU and schools.
This July, he retired. Some former players still come visit him. He says he gets wedding invitations, and baby announcements, in the mail.
"It's a real blessing," he says, "when you see the kids again and they acknowledge what you did for them. It's so gratifying. You can't put a price on it."
Harry Adams
1995-2020: Mount Holly Stars AAU girls basketball
2005: 11-Under AAU Division II National Champion
2006: 11-Under USSA National Champion
2007: 12-Under USSA National Champion
Public schools:
2011-2012: Gaston Day School (24-3)
2010-2011: Gaston Day School (14-8)
2008: Gaston Christian School (12-2)
2003-2004: Stanley Middle School (2004 – 12-0, county champions)

The 2022 Mount Holly Sports Hall of Fame banquet will be held on August 20 at the Mount Holly Municipal Complex at 6pm. Doors open at 5. Tickets are available at Moose's Pharmacy and David's Detailin, and online at FameTotheName.org.